You Can Get Restricted Access to the Patent Pending Training Video that Revolutionizes Your Training and Makes You the Exclusive Expert in your area.
Fill This Out To
Get Your Access Code Immediately
Get Instant Access
Easy and Effective
Governs all other workout systems (You can plug any of your favorite exercises or routines into this syste and make it safer and more effective)
Automatically motivates your clients to love fitness (No more frustration trying to get your clients to follow through on your recommendations. What will you do with all this extra time!)
Is easy to learn and implement (you or your staff with any level of training or experience can use 100% of the syste quickly)
Makes your programs the most cutting edge yet safe (we do all the heavy reading and research to make and keep this system the most advanced, so you don't have to)
You get a system that makes group training of clients with different skill levels easy

Manage Clients with different skill levels with ease
Integrate this into any group classes or boot camps
Be known as the group training expert in your area

You get a system that gives you the option to upsell and make more money

Become the leading expert in your area and offer premium prices (because you deserve it!)
Give them higher levels of service without costing you any additional time
Offer "synergistic" options to your services that generate more money

You get systems that can cut your training time by up to 50% and double your revenues

Train 6 people in one hour and charge 1 on 1 rates
Have every client show up on time and eager to train
Never have to manually track down clients and payments again (put it on auto pilot)

You get the exact system on how to retain your clients for years

Run your training program like a martial arts school…
Learn how to motivate EVERY client to love working out
Apply the one concept needed to keep clients coming back to you

Even for new clients, it's given us a 98% retention rate.
It's safe and effective and motivates the clients to work a little harder and incentivizes them to get more results
It's easy and a very simple way to manage your programming…this give you a clear way to your programming

Rich Pohler,Voorhees NJ Director of Training at Body Solutions
A little background about the creator of Body Readiness Ranking System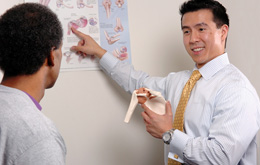 Dr. Young received his clinical doctorate and master's degrees in physical therapy from MCP Hahnemann University (now Drexel) and his Bachelor's degree in Kinesiology movement science with a heavy emphasis on biomechanics from PSU. Since 2003, Dr. Young has appeared on Fox News as a specialist on health, fitness, and exercise. In addition, he is a regular contributing writer for local and online publications. His teaching experience includes lectures to personal trainers across the country at facilities like Gold's Gym, Town Sport International, The Sporting Club, and numerous local gyms. His academic experience in teaching includes serving as an adjunct assistant professor at UMDNJ Stratford New Jersey. Dr. Young's successful approach has been at the forefront of health and fitness for the past decade.

Dr. Steve Young, PT, DPT, CSCS, NSCA-CPT
You Can Get Restricted Access to the Patent Pending Training Video that Revolutionizes Your Training and Makes You the Exclusive Expert in your area.
Fill This Out To Get Your Access Code Immediately
Get Instant Access